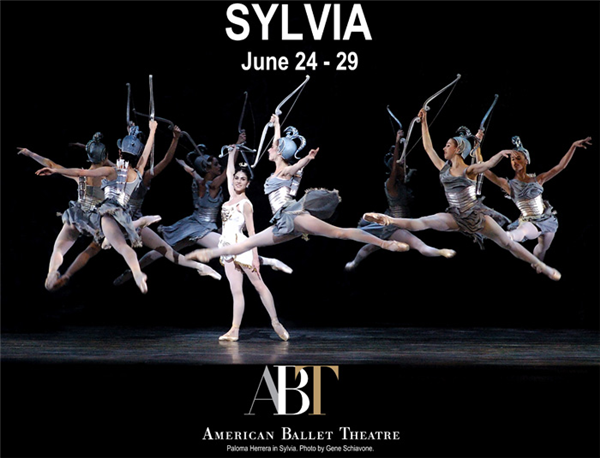 American Ballet Theatre Presents Sylvia by Sir Frederick Ashton, June 24th – 29th at The Metropolitan Opera House, NYC 
It would be virtually impossible to imagine British ballet without Sir Frederick Ashton.  Ashton, who was the foremost principal director and choreographer for England's Royal Ballet, is celebrated for his ability to show off the individual gifts of his dancers, including fantastically quick footwork, melting arms, and melding sweet lyricism with barbed wit. 
From June 24-29, American Ballet Theatre will perform Ashton's idyllic jewel, 
Sylvia
, which relishes in the true nature of love as the huntress Sylvia is united with a smitten shepherd, assisted along the way by the mythological deity Eros.
The role of Sylvia is a tour de force, as the ballerina must present herself convincingly in a variety of guises, from Amazonian warrior to seductive temptress outwitting her captors to, at last, a woman transformed by love.    
Also, Ashton's full-length ballet is set to one of the most delectable scores by composer Leo Delibes.  Tchaikovsky himself was so impressed with Delibes' score that he once observed: "Had I known Sylvia existed, I would not have dared compose Swan Lake!" 
The critics also rave:
"The lush colours and romantic sweep of Delibes' score are 19th-century ballet music at its finest.   From the moment the curtain opens, it is clear how deeply Ashton's instincts chime with his music.   Sylvia beams a steady wattage of charm. The overall result is a swift and elegant fantasy packed with choreography." — The Guardian
"Nothing can match the impact of seeing Ashton's full-length Sylvia restored to the repertoire.  One can only imagine how pleased he would have been." — The Times, London
"The choreography is as lightning fast as it is intricate. Ashton provides a veritable 'Concerto for Ballerina' for his leading lady, showcasing her talents in a cascade of styles and technical challenges." — Time Out, London
"American Ballet Theatre has an irresistible hit on its hands: a ravishingly pretty, fast-paced frolic set to the most hummable score. Ballet Theatre dancers perform to virtuosic perfection." — The New York Times
"Sir Frederick Ashton's sumptuous ballet is a big spectacle, with its lush music and splendid settings. ABT's staging would have delighted the creator himself. Magnificent." — New York Post  
For American Ballet Theatre tickets, call 212.362.6000 ~ Click here to order online
Go to the Metropolitan Opera House Box Office, 64th Street and Broadway, NYC
For additional information, Click here to visit the Sylvia microsite