Win FREE Tickets to see David Icke in NYC…
 Sunday, 20th November 2011 @ 10am
Best Buy Theater – Broadway at 44th Street 
In association with and thanks to GBH.TV, we are proud to offer 3 x Pairs of Tickets to giveaway to our members, just answer this question….
"How many books has David Icke written to date…?"
Please send an email to info@bigapplebrits.com with the answer – the first received correct answers win!  We will email you if you have been successful … Good luck!
OR, PURCHASE ADVANCE TICKETS – HERE!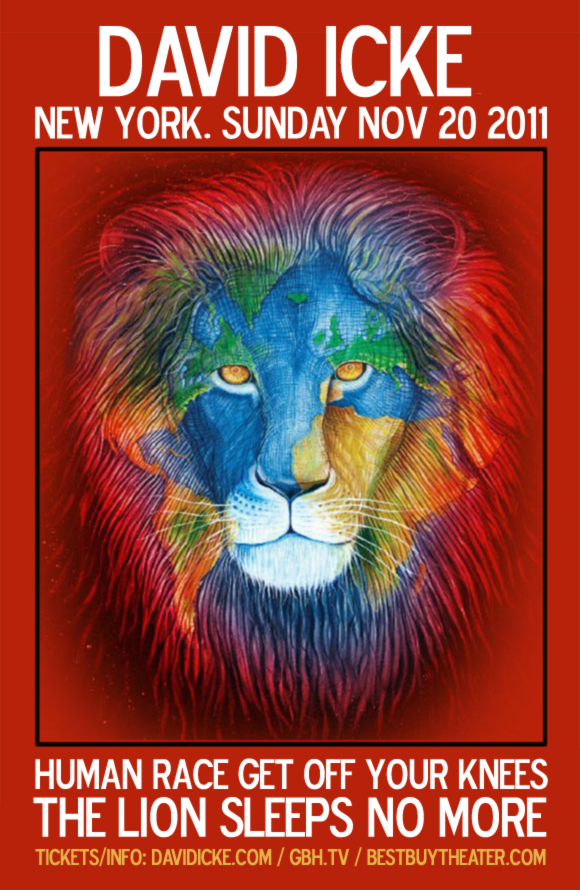 DAVID ICKE RETURNS TO NEW YORK 
After a sold-out show at Best Buy Theater in 2010, world-famous conspiracy researcher David Icke is returning to our fair city with more information, more research and a message of hope for humanity, even as our history takes a dark turn towards economic collapse, global war, civil unrest and the consolidation of power by the global elites.  
Many people think this kind of thing is all nonsense, and if you are one of those people, this is not for you. Icke speaks for eight hours on many diverse topics such as the nature of our reality, 911 and the War On Terror, the coming global government, ancient religions, political assassinations, the use of symbology, freemasonry, satanism, parallel dimensions and the unseen forces that influence us more than we could ever be aware. 
For the open-minded person with a sense of wonder, his many threads of domumented facts weave a grand and mind-blowing tapestry. 
Never before have we met such a tireless researcher; Icke is a man who turned his back on a lucrative TV career in the UK, and devoted his life to discovering the truth. He has been ridiculed more than anyone you can name in his 20 years on this path, but the world is finally catching up with his predictions…  
FOR ADVANCE TICKETS – CLICK HERE!
Best Buy Theater: Broadway at 44th Street